Here are some items that might be useful if you're interested in MTBing in Oaxaca. Below are links to external Web pages regarding MTB guides/tours, bicycle shops in the city of Oaxaca de Juarez, and groups/clubs who mountain bike in and around Oaxaca or other great locations. If your group or site of interest is missing, send us the info so we can add it. Note that as we get more information about a riding club/group, we add it to our "Groups" page along with the more detailed info (e.g. contact info, riding days & meeting location, etc.). So if you're looking for people to ride with, make sure you check out that page, too. Also, these links will open in a new tab/window in your Web browser.
Guides & Tours:
If you are looking for guided rides in Oaxaca, contact any of the following tour/ride guide companies for anything from an afternoon of sweet singletrack to a multi-day "epic" with sag-wagons, camping, cooking and hot showers. They'll be glad to tell you of the common tours they offer and the rides they often guide visitors on; introduce you to their friendly guides; and show you the range of rental bikes they provide. They will be happy to discuss exactly what you're looking for and how they can meet your needs: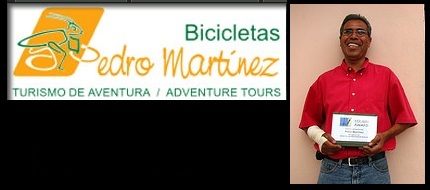 Bike Shops — Sales, Rental, Repairs, Parts & Accessories
Alberto Bailón Distribuidora de Bicicletas – sales & repairs (no rentals)

Bustamente 705-B in el centro / 501-1502 / DISTRIBUIDORA_BAILON@hotmail.com
______________
Bicicletas Pedro Martinez – bike rentals & bike clothing Aldama 418 (interior courtyard) in el centro / 951-514-5935 / pedrobicis@gmail.com / www.bicicletaspedromartinez.com
______________
Summit Cyclery – sales & repairs (no rentals) Calzada Porfirio Diaz 230 Col. Reforma / 951-132-5897 /

www.summitcyclery.mx

______________
"Specialized" store: Armento & Lopez 419 in el centro / 951-514-0329 – sales of mainly Specialized brand bikes; repair shop; no rental bikes
"Trek" store: Emiliano Zapata 228 (corner of Emiliano Zapata & Sabinos) in Reforma / 951-516-3983 – sales of mainly Trek brand bikes; repair shop; no rental bikes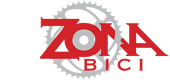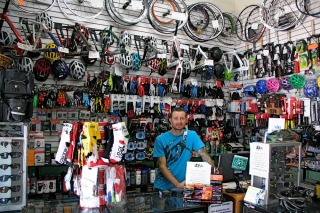 ______________
Calle Ignacio Aldama No. 422, Esquina. Diaz Ordaz C.P. 68000, Oaxaca, Oax. (951) 514 42 37 (951) 514 32 42
Priv. de las Casas No 204, C.P. 68000, Oaxaca , Oax. (951) 516 6683 (951) 516 3011
______________
Bicycle Clubs, Associations, Information, etc.:
For mountain bike riding and racing groups in Oaxaca, when we learn of them, we add a link to their site here. If we gather more detailed information (e.g. when they ride, where they meet, skill level, type of riding), we give them an entry on our "Groups" page. Thus some Oaxaca groups appear on both pages, but groups NOT in Oaxaca are only listed here.
Shuttle Resources:
To La Cumbre
Sra. Osiris, Camioneta Sierra Servicio Mixto (mobile #s) 951-172-1414 and 951-193-5375
(pickup in Oaxaca at northwest side of Hwy 175 & Hwy 190 intersection
(i.e. Monumento Benito Juarez)
Buy or Sell Bicycles in Oaxaca
A great way to advertise a bike for sale or to find a set of wheels to explore the Valles Centrales or the nearby mountains of Oaxaca.
https://www.facebook.com/groups/109864672496870/
https://www.facebook.com/groups/778221948889417/
Other Oaxaca-related information:
For other information about the beautiful state of Oaxaca, Mexico we suggest you start with the links page of our good friends at www.HoofingItInOaxaca.com

.

For more general information about expats living in Mexico, you might want to visit www.expatsinmexico.com/mexico